One of the principal benefits of membership in the Potomac River Smallmouth Club is participation in club fishing trips. PRSC trips are open to current members and are led by members who are familiar with the destination area.
Club trips are organized on our Meetup page – signup there or in person at the next meeting.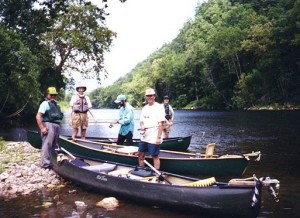 Most trips are one-day affairs, however many years PRSC does over-night trips which may involve staying in a hotel or a rented cabin or lodge. Trips provide an opportunity to introduce new members to river smallmouth fishing and boating in the area and offer all participants the convenience of group shuttles, safety, and camraderie.
Email PRSC's trip coordinator at trip_coordinator@prsc.org, or contact him or her in person at the next meeting for more information – or to volunteer to lead a trip.