The Buzz is the monthly newsletter of the Potomac River Smallmouth Club, published January through November.
Receiving each month's issue of The Buzz is one of the benefits of membership in PRSC.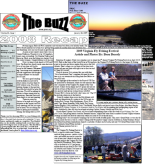 Content varies from month-to-month, but typically includes:
Information on upcoming club meeting programs
Trip reports
Advice on equipment and techniques
Safety information
Discussion of conservation issues and actions members can take
Fishing contest standings
Articles by club officers, members, and guest authors
General B.S.
Send comments, articles, and pictures to buzz_editor@prsc.org.
Back Issues
2018 — Present
January 2018
February 2018
March 2018
April 2018
May 2018
June 2018
July 2018
August 2018
September 2018
October 2018
November 2018
2017
October 2017 (there was no October meeting in 2017)
2016
2015
2014
2013
2012