Author, sportsman, photographer, and conservationist Bruce Ingram will share his deep knowledge about fishing for smallmouth bass.
When: Wednesday, July 26, 2017 at 7:30 pm (doors open at 7:00 for socializing)
Where: McLean Governmental Center, 1437 Balls Hill Rd, McLean, VA 22101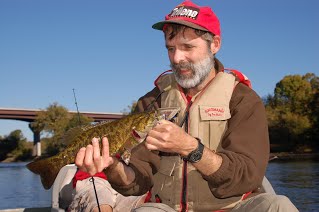 About Bruce Ingram
When not teaching English in the Botetourt County, Virginia, school system, Bruce spends much of his time fishing, hunting, birding, and enjoying the great outdoors. During this meeting he will specifically address the best float trips on the upper James and New Rivers.  He will describe five floats on each river that would be worthwhile for members to come down and fish. Bruce will also be available to answer any questions you may have on those topics or his other achievements as well. We will also have the opportunity to purchase signed copies of Bruce's books outlined below.
Bruce has been an outdoor writer/photographer since 1983. His extensive knowledge is reflected in the many books he has published, including the James River Guide, New River Guide,
Shenandoah and Rappahannock Rivers Guide, and South Branch and Upper Potomac Rivers Guide.
These books cover a wide range of float trips available on these rivers, plus information on access points, rapids, fishing hot spots, and trip planning. Basically, paragraph by paragraph, mile by mile, Bruce takes you on a trip down these rivers, so that when you go on your own trips, you will have a safe, productive fishing experience.
His book, Fly and Spin Fishing for River Smallmouth, covers how to catch smallmouth on fly and spinning rods throughout the year, plus such topics as conservation easements, riparian zone creation/protection, taking kids fishing, canoe camping, birding by canoe, and much more. Bruce and his wife Elaine recently co-wrote a book titled Living the Locavore Lifestyle, about ways to live a sustainable lifestyle by hunting and fishing for food, gathering wild fruits and nuts, and raising a garden, chickens, and fruit trees. It also contains a number of essays on the joys of hunting and fishing. His latest book, Ninth Grade Blues, is a Young Adult fiction novel. It is expected to be out in July 2017.
In addition to his books, Bruce has also placed some 2,300 articles in magazines and some 2,500 photos. He regularly writes for such magazines as Virginia Wildlife, Wildlife in North Carolina, Whitetail Times, Turkey Country, Outdoor America, Quality Whitetails, Game and Fish Publications, and many others.
The Outdoor Writers Association of America has honored Bruce with six writing awards.  Bruce and his
wife Elaine have cooking columns for the Virginia Deer Hunters' Association and the Quality Deer
Management Association.