The PRSC fishing contest is a pretty simple affair, operating completely on the honor system. The motive of this contest is to create a good-natured competition among members.
For the contest, the Potomac watershed is broken into three sections as follows.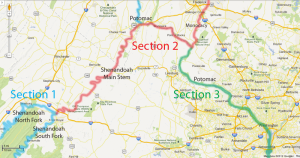 Section 1: All water above Harper's Ferry on the Potomac, all of the North and South Forks of the Shenandoah, and all tributaries flowing into these waters.
Section 2: Main Stem of the Shenandoah and the Potomac from Harper's Ferry to the Mouth of the Monocacy, and all tributaries flowing into these waters. The Monocacy is included in this section.
Section 3: The Potomac River below the Mouth of the Monocacy, and all tributaries.
Prizes
Prizes are awarded at Member Night for each of the three sections for the following:
Best 5 Fish (total length)
Largest Fish (based on length)
In addition, several highly coveted awards are also presented.
Grover Cleveland Award: Overall largest fish from any section
William Shriver Award: Highest cumulative total for all three sections
New Member Award: The largest fish caught by a new member1 in any section
Largest Fish on a Fly: Largest fish caught in any section
Best 5 Fish on a Fly: Caught on a single trip in any of the sections
1 Members who joined PRSC in November of the prior year or later are eligible for the New Member Award.
General Rules
Members keep track of their five best fish by length on a trip (single day) and report the total length.
Also report any fish that you believe might compete for any of the "largest fish" categories (see above).
Measurements are reported in half-inch increments. Tails may be pinched to make the measurement. Round up from 1/4th inch increments. Round down from 1/8th inch increments.
Examples: A 19 1/4th inch fish is reported as 19.5″. A 19 1/8th inch fish is reported as 19.0″.
Fine Print
Only PRSC members are eligible to participate – you must be a member at the time the fish is caught.
Only smallmouth bass are eligible.
Fish must be released to be eligible.
Contest begins Jan. 1 and ends Oct. 31.
Fish must be reported within one month of being caught.
How to Compete
When you go fishing, measure the first five smallmouth bass you catch. Over the course of the day, replace the length of the smallest fish in your top five with any larger fish you catch.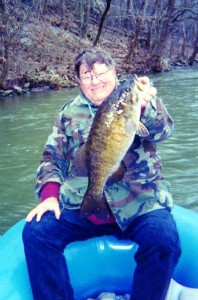 Jack Cook is the official record keeper for the contest. Report your totals and any candidates for largest fish in a category by calling Jack at (703) 573-4403. You can also submit an entry online or by e-mail to fishingcontest@prsc.org.