Long-time club member Ernie Rojas will talk about his favorite fishing spots across the U.S. and beyond, including outings on the Potomac River, to the Chesapeake Bay and tributaries, and to South Florida.
Where: McLean Community Center – Stedman Room, 1234 Ingleside Ave, McLean, VA 22101
When: February 24, 2016 at 7:30 pm (doors open at 7:00 for socializing)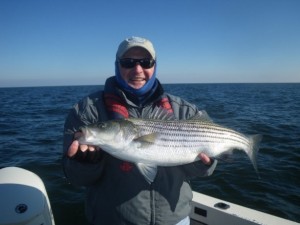 About Ernie
Ernie Rojas was born in Havana, Cuba. Ernie came to the United States in 1960 when he was 9 years old. He became a US citizen and has been living in Northern Virginia since his arrival. He proudly served in the US Navy Reserve from 1972 to 1978.
His first memories of fishing are off a pier at the Havana Yacht Club. He doesn't remember what he caught his first times out. But later he fished out of a rowboat off Varadero Beach, a long isthmus that juts into the sea pointing at Florida, and caught some great snappers. He claims, "I had no clue what I was doing," but like today, he was putting fish in the boat.
Ernie's grandfather, who he never got to meet, was a shark fisherman.
While Ernie started fishing at a young age, and it was always enjoyable, it wasn't until he started fishing with his friend Carl in 1984 that he became a passionate fisherman and fishing became a lifestyle. Carl made fishing an "excursion." Everything about it was to be enjoyed. Riding in the car, getting breakfast, being skunked, or catching tons of fish. Everything was a memorable event, and today Ernie follows the same philosophy. Carl passed away 5 years ago, and in memory of his good friend, Ernie tries to instill his passion for fishing in others.
Ernie says that he is probably happiest when fishing for white perch, which he calls "the Carl influence." Catching a 12-incher is a "monster." He says that the largest fish he has ever caught were a mid-40s tarpon and striper as well as a 50+" wahoo. He explains that he doesn't measure and weigh fish much anymore, except white perch, where a 1/4″ makes a big difference.
Ernie caught his first fish with a hand line and a bait-less hook when he was 6 or 7 years old. Now he uses St. Croix and Loomis rods, Shimano spinning reels and Abu Garcia Revo baitcasting reels with artificial bait, and likes to throw the long rod as well. There are not too many species that he won't chase. He says that his favorite lures are soft plastics, jigs, and top-water plastics. He adds that most are interchangeable in concept.
So don't miss our February 24 meeting, as it will be a very special night with Ernie.