Potomac River Smallmouth Club member Jed Woodill will discuss Fishing Nova Scotia at our February meeting.
Where: McLean Governmental Center, 1437 Balls Hill Rd, McLean, VA 22101
When: February 22, 2017 at 7:30 pm (doors open at 7:00 for socializing)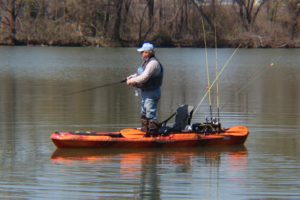 About Jed
Jed has been a member of PRSC since the spring of 2015 after he moved here from Ontario, Canada. He currently works in the Embassy of Canada and will be returning to Nova Scotia when his posting ends this year at the end of May.
"I started fishing at age five with my Dad. We would go to my uncle's cabin in Cape Breton and fish for brook trout in the Lake and streams around his property. Eventually my dad got his own boat and we mostly fished the Lake. When we weren't fishing for trout in Cape Breton we would go out around the Halifax area where we lived to fish for saltwater species like cod, pollock and smelts.
"I moved to Alberta in my twenties and didn't find the time to go fishing while I started a career and then a family. Once my own kids were old enough I got back into fishing and discovered just how hard it is to find good places to fish when you don't know the local waters and you aren't familiar with the local species of fish. Northern Alberta fish are mostly northern pike, muskie, walleye and trout – but a different species of Trout – rainbows and browns. My efforts to teach my kids how to fish at the same time that I was trying to figure out new territory didn't work out well. My kids are only today learning to appreciate fishing as much as I do.
"Two more moves and in 2010 I arrived at Gananoque, Ontario on the Saint Lawrence River in the Thousand Islands just below Lake Ontario. It is a beautiful area and a great place to fish. I decided it was time to get a boat and really get back into fishing. But I once again had the problem of unfamiliar waters and unfamiliar species, this time small and largemouth bass. I looked up information on the Internet, read books, watched the fishing shows, and bought all kinds of gear. I solicited dockside information and sought out fishing buddies at work and amongst neighbours. I was making progress in that I was catching some bass, but a lot more pike, and I bought a lot more gear.
"In 2014 I moved here and yet again – unknown waters. The big difference this time was something very unfamiliar to me, fishing clubs. So I signed up with PRSC and eventually New Horizons Bass Anglers, and between the two clubs I have made lots of friends, learned a whole lot about fishing these waters, fishing for bass, and what gear to buy and how to use it. More importantly I have had a lot of fun.
"Tonight's presentation is my way to say thank you and I hope that I see you guys up on my old turf someday soon. I'll do my best to make your foray into unfamiliar waters as productive as possible and we will have a lot of fun. Who knows? There might even be more gear to buy."